E3 2019 Report
Not many new announcements this year. Might just feel that way because nearly everything gets leaked these days of course. Microsoft showed lots of games, but none of them would convince me to purchase an X-Box. I doubt the new console can really display native 4K-HD 120FPS, and even if it could the "wow-effect" would be lost after a couple of hours anyways and games would play much like they did on 7th and 8th gen consoles. So I'm all "whatever" on all things Microsoft this time (but that's my usual reaction there).
Hee ho
Fixed. Textures also working.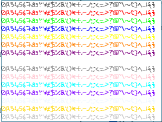 My bitmap font reader is working! ... kind of :|
Started playing an RPG on PS2. Needed to look something up and sure enough - there's a gamefaqs guide by A l e x. That's some critical nostalgia right there.
Took me a bit but I managed to implement mruby into my game engine and get it to run on Windows too. \o/
Hell yeah Talking Classics is back!
looks like everything's fine. just migrated all my sites to a new server and domain.
Set up a second desktop PC for windows use. Need it for development but it's nice that I can play lots of PC games again (like I have time for that lol)